Charles Fortner's Return to his Native Land: Treme.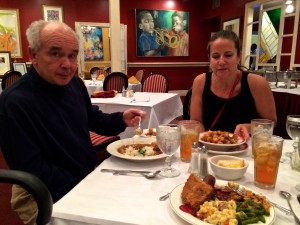 A year ago our friend Charles Fortner, of the 6th Ward in New Orleans, was felled by a stroke.  An authority on local cuisine, it was something of an occupational hazard.  Having just returned from five days dining with Covington's own Camilla, Charles and another of Treme's highly esteemed connoisseurs, Lolis Edward Elie, I can attest to the toll that fine cuisine can take.  It is my intention to eat small proportions of grains with unseasoned lightly-cooked vegetables, exercise every other day, and to practice abstinence from now until, at least, the holidays.
On the feast of Eid-al-Adha, we sprung him from the drab environs of the rehab facility way out Jefferson Highway, where he's been making heady progress, for lunch in Le Ville at Dooky Chase and a walk to his old neighborhood.  Everybody was there: Kimbel, Mrs. Washington, her daughter Angie and the artist Terence Rosemore – who also plays the Chief of Police on the HBO series about the neighborhood.  And it was all good.  There's so much to like about New Orleans. Particularly the people.