Alternate Side of the Page Parking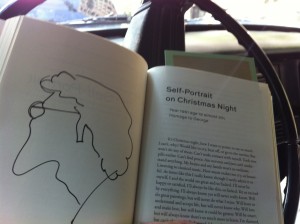 Harlem.  While I double-parked in front of Brands Liquors on 145th the other day, a contractor from Bergan made an offer on the car I am finding hard to refuse.  Since my mechanic Lou's retired I have tried several mechanics uptown and have yet to find one sufficient to the task of maintaining anything like he did.  For over twenty years he maintained the car out of Mira Auto Body in Astoria.  His father, Raphael Pepe, was the head mechanic at the Checker dealership in Queens before it closed in the early Eighties.  Lou grew up there.  It needs work and mercury isn't the only thing in retrograde. Expertise and parts are in short supply all over.
Still, this morning's alternate side of the street parking had me sitting in the Checker under clean, comfortable clear skys, under Jumel's rod-iron and Linden dappled light by the Mansion's stone-wall declining toward Edgecombe, reading Joe Brainard's Self-Portrait on Christmas Night: Year 1961 age 19 almost 20; Homage to George.  Note the Grolier Club invitation to the Morris-Jumel fundraiser featuring a private viewing, gallery talk and reception by the "Burriana" collector, Brian Hardison.  The pen, which was stuck down in the bench seat, is strictly there for pretention's sake.
The well-dressed mid-century modern man in the human cargo vehicle parked in front of me is working-out his superior speaker system with Hank Mobley.  The twenty-something in short-shorts walking the dog compliments the car.  That's the illustrious 555 Edgecombe and Uptown cool school painter Charles Alston's apartment/studio (as opposed to studio apartment) across the street out the car's window.
It all amounts to what we in the book business call Association Value.  I'll associate this book with how I am spending my summer vacation: reading cool Joe Brainard, whose aphoristic I Remember I finished last night, again.   Joe entered my life in the 1976  hardcover edition from Bleecker Street's Full Court Press I bought at the Strand in '91 for five dollars.  I am reading same in the 1976 Checker on Sugar Hill in 2012 and everything I associate with that which, for just now, is alright.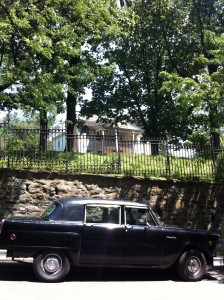 I am taking off from my hard erection year reads: Caro's latest study of the Johnson era, The Passage of Power,Taibbi's Griftopia, Paul Street's The Empire's New Clothes, Jacques Ellul's Propaganda,  even Achebe's There Was a Country, to read some poetry.  I was getting up to here with people I agree with about so much I dislike.  And if you ask me I can explain to you the decline of the west and just how unfair it is so you will never want to see me for a while.  Like friend Lebowitz, I am enraged – as every literate person should be.  By way of excusing my impertinence, I can only say that I have come by my cynicism honestly, and that it's worked out quite well, thank you very much.
It's quiet uptown today.  The birds are chirping.  The sun is shining.  The wife's at work.  The kid's interviewing for a job.  The brown cat is asleep on the green chair that's so becoming to his stripes.  Under these favorable conditions it is hard to justify good reason.  My plan is to procrastinate.  I've four days off and, when I'm not procrastinating I am going to read some more from Joe Brainard's Self-Portrait on Christmas Night and not accomplish anything.
"God only knows; and how I wish there were a God.  I am the closest thing (for myself) to a God; but what a thing to put your faith in."  J.B.