Art in Transit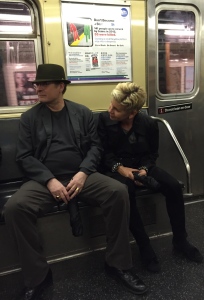 Time traveling to that once-upon-a-time without inhabitions, brother & sister looking back from Uptown today to Downtown then at Grey Art Gallery's Tseng Kwong Chi: Performing for the Camera exhibition and blast from our Bonfire of the Vanities past.  Here was a signif' segment of the congregation I ran with in my late 2os and early 30s in the late Seventies and through the 80s, who I hardly get to see any more.  Min and Oli came from Miami, as much to see daughter Lulu.  Ann Magnuson came in from Los Angeles.  She's a film with Christopher Walken, premiering at the Tribeca Film Fest, and she looked every bit the statuesque celluloid symbol I so admire.  Mr. K. Sharf threw a preliminary  day-glow chiusura notturna  Par-Tay at his Cosmic Cavern in Brooklyn's fashionable Bushwick that turned into something of a Pulsallama reunion with Ann, Sis' Sanchez, Kimberly Davis, Miss April Palmieri, Ande Whyland and Dany Johnson – on the drums.  Heart be still!  Ya talk about yr It girls…  And Bruno Schmidt, "International Man of Mystery" as they calls him.
As Sister Min says, "If we'd have gone to college, this would be our class reunion."  This would have been her sorority, my frat'.  Downtown would have been the campus.  Club 57 was the club house, Mudd the class room, Danceteria the wreck room, The Palladium the alt-Big Game.   And there's Michael Holman – who played with Jean-Michel Basquiat in Grey at Mudd – with Widow Basquiat!  Aren't we all aging well?  Swellegant Peter McGough and I had a goodish palaver involving such afar afield characters as Susanna Moore, Cheryl Hardwick, and Michael O'Donogue before digressing to garish/hilarious memories of my extended stay at David McDermott's apartment on West 92nd Street in 1975.  He was a very good friend who did not like cats.  Of course, I had a cat.  That was that.  And here was the Gentleman's Gentleman, Drew Straub – Keith Haring's oft-time collaborator and sometime Batusi go-go boy with space-cadet Sharf – long-time denizen of the Chelsea Hotel, where I moved, from McDermott's in '76, across the hall from Ultra Violet, I think.  None of my brothers in the bottle are in attendance, which says something.  There are people here I know but I don't recognize but most have aged well, their vanities keeping their sanities as the zeitgeist spun us out the loop.
Kwong chronicled this lost loopy world, haunted by those who couldn't be here more than those who couldn't make it.  Long gone, Kwong, a gracious man.  You couldn't not like Kwong. Everything was serious, nothing mattered, which is what made it all so funny.  His humor reminded me of Luis Bunuel.  They shared a disarming talent for taking/charming the piss out of people.   What photographer Bill Cunningham has been to women's clothes in New York, Kwong was to it's nightlife – arguably at its most decadent.  He chronicled the course of the epidemic in pin-ups.  Here's Klaus Nomi before the lightning stuck.  John Sex, Bobby Breslow, Shawn (Amo), Martin; the glamour boys.  Glamour, glamour!  Ze boys, ze girls.  Cabaret life, way off-Broadway.  In the dark downtown of de-gentrification, there was lots of dirty dancing, and dirtier flirting.  I was dating the decadence inspiring MC's daughter, Jennifer Grey, who lived above the Madison Avenue Bookshop (that supported me) back then, and Uptown Sotherby's art smart, double-jointed, lovable, dove-able Jennifer Brown,  same time.
I loved the cabaret.  It's rumored The Lower East Side Ladies Auxiliary 's Secret Boy Files, where I'm told I got good reviews, have been destroyed and with them the evidence.  Where was Joey Arias?  Likely off singing Billie Holiday, and all that tragic burlesque magic he does so well.  It's only a cabaret.  Olé!  Here with Oli "Bird" Sanchez, it seems like old times.  Stop me before I drop another name.  Go to the show.  Buy the catalog, though I'm not certain I recommend you read it.  Kwong's ex-, Christopher, who knows from bad art catalog, was quick to point out it's prose klinkers and he was right.  Too bad.  But the pictures are there testifying to the role of the names who've dropped and a cast of a society of maybe 250 people who knew one another.
Kwong made social studies of what might be the end of a long, perhaps too well-worn, tradition of avant-garde bohemia in which art is played like a sport.  With the epidemic, the avant-underground met the other world.  Lawd knows, the bell tolled.  In the first six months of 1990, we the dearly beloved lost Adolfo Rene Sanchez, Tseng Kwong Chi, Keith Haring, Dan Friedman  – the team I packaged in Art in Transit: The Subway Drawings of Keith Haring – starting with Micky/Miguel Alvarez (another one of these Cuban heart-throb types) in monthly installments, that January.  By then Our Crowd was meeting as often at St. Vincent's or Luke's as at Memorial Services in funeral parlors as in nightclubs at art galleries.   By '93 few hung in.  That world was ovah.  Min and Oli went to Miami, so'd Kenny, Patti Astor went to LA, so'd Kenny, but not for the same reasons.  He's a Cali guy, went to Hollywood High. Lots of Downtowners went to LA, Carmel and Bruno went to Paris, Kitty went to Hawaii, I went to Cairo and Brooklyn. Some people went into rehab to the extent that it didn't matter where they lived, as long as nothing reminded them of New York.
And this was us misfit's extended urban family, who didn't need a holiday to celebrate, as one does when one is pretty, or likes to think so.  We were the kind of people who ran away from dark home towns to the flattering city lights.  Probably we got the idea from the movies.  Everybody from everywhere watched these movies and the tv.  When my Minnesota sister, Min, married Camagüey, Cuba guy, urban junglebook & Mogali look-alike, Oli, and they became the Lucille Ball and Ricky Ricardo of the aforementioned after-hours gin/pill/powder/paint & perfume mills of the pre-gentrified Downtown whirl, his brother, Adolfo, the painter, & I, the biblioklept, became the Fred and Ethel, the In-laws. Kwong went home with us, to Minnesota, photographed their wedding, and won over my father, who invited him to tour Alaska.  I shoulda been jealous.  Don't ask.
There's all that on the Grey Gallery's walls.  All the sluts for art.  Not that I'm in the pictures.  I was the literary snob reading his turning himself into a slut for art. He was a great poser, upstaging most of his accomplished subjects.  Impudence succeeds where defiance would fail.  Whether it be with the Moral Majority or the Upper East Side's Neo-Con fashionistas of the Bonfire of the Vanities years, Kwong's laugh is at their expense.  He'd flash them.  I remember standing katy-korner his loft on West 21st late one night watching photographer's strobes going off on three floors at one, lighting 7th Avenue like a scene from Blow Up.  Kwong was part of the swinging intellectual thing, in which the erudite is alright.
I personably enjoy the landscapes, composed by the same Tao Mai Mai Sze painted into my Prairie aesthetic, exemplified by his Black Hills and Canadian Rockies, back when I cracked her Mustard Seed creed in my teenage Zen quest for the catholic beyond the Roman beholden.  More or less the Moral Majority, who haunt my Bible Belt beginnings.  He was one of the more erudite, cultivated, certainly one of the most composed, of The Scene's artists.  Look there's Andy Warhol, there's a healthy selection from the Factory and Max's.  He blessed Jean-Michel and Keith and Kenny, who all wanted to be super stars and were and here .  There's his homage the venerable black vernacular of the city from transgressive NYC disco to the birth of Hip Hop.
Should you happen upon this journal entree/review, it is a work-in-progress and next time you see it, things won't be the same.  It's an allusion.  Anybody who'd like to chime in is welcome.  For now, good night and sweet dreams.  April 22, 2015.