Saturday. July 13. 12:30 p.m. The Burr-Hamilton Duo. Morris Jumel Mansion.
The Burr-Hamilton Duo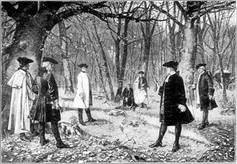 Saturday, July 13, 2013, at 12:30 pm
Kurt Thometz and Jimmy Napoli
 will be representing Alexander Hamilton and Aaron Burr in a dialog on their common interests in
Thomas Jefferson, Federalism, Civil Rights, Women, Slander, Sedition and Treason, amongst other things.
 Join us in a thrilling and fun-filled excavation of some Harlem Heights History.
Morris-Jumel Mansion
61 Jumel Terrace
New York, New York 10032
FREE with Museum Admission
R.S.V.P. 
Directions:  A 30 minute ride from mid-town Manhattan over the following routes:
By Car – Up St. Nicholas Avenue to 160th Street, turn right one block or down Broadway to 160th, turn left to between St. Nicholas and Edgecombe Avenues.
By Madison Ave. Bus – M2 to 160nd St & Edgecombe Avenue, M3 to 160th & Amsterdam.
By Subway – IND 8th Ave – A train to Harlem, Local, C train to 163rd St. Station, use south exit at 161st St. and walk half a block south up the stairs to Sylvan Terrace and one half block east.
By I.R.T. Subway – Broadway 7th Ave. line (1) to 155th St. Station. Walk north to 160th St., then 2 blocks east. 
Presented in conjunction with
The Historic House Trust's Contemporary Art Partnerships
Thank you to our sponsors